Commercial Painting
Commercial Painting is different from other types of painting. When you paint a commercial building it must serve two purposes: protect the building from the elements; and look great. If necessary, a homeowner can leave their residence while the work is being done. This is not usually the case for a commercial property. It is extremely difficult for business enterprises to allow that same level of access to a work crew.
 We're commercial building painting specialists, and have a great deal of experience in Commercial Painting for all types of commercial properties. Whether you need interior painting for an office or restaurant, or a complete exterior paint job for a condominium or hotel project, we have the expert product knowledge and application know-how to ensure a job done right.
We specialize in the application of protective coatings that are extremely resistant to the elements, which can be pretty harsh in Florida. Our finished product can endure high traffic, yet still provide an aesthetically pleasing look. We specialize in painting and applying various types of coatings, from tough epoxies in high wear areas to resilient, long lasting paints. Our ability to assess problems, manage surface preparation, and apply suitable coatings on time and on budget is what it takes to satisfy the needs of our diversified customer base.
Who we serve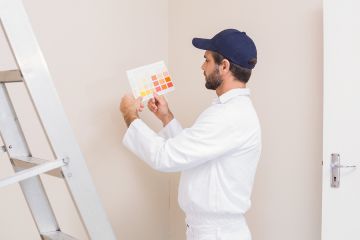 Retail spaces, doctors' offices, restaurants, condominiums, in fact most commercial facilities require a high level of awareness of the environment and how people use it. Color, light, and detail all play important roles in creating a compelling ambiance for customers, visitors or clientele or a pleasant, productive working environment. In our experience, expertly designing and painting these spaces is both an art and a science requiring the utmost attention to detail. The experts at Jackson Holmes Painting will help you create an environment that feels as good as it looks. We are dedicated to making you and your company look great!
Exterior Painting
Just as we choose the right outfit for a given occasion, your commercial space needs to visually represent exactly what your goals are. Whether it is bright, fun, and eye-catching, stately and professional, or something else entirely, exterior paint should be chosen strategically and applied expertly.
Interior Painting
Beyond style alone, interior painting also offers an invaluable layer of protection for your surfaces, absorbing those scuffs, dings, and scratches that are all part of being in a high-traffic area.
Jackson Holmes Painting is taking a proactive roll in making sure we do our part by using environmentally friendly products, changing field habits and practices, to instituting a company-wide Green approach to doing business.